Must have forgotten to book the Convention Centre or the MGM Grand in Vegas …and the press and media coverage would have been too invasive in any case.
In any case, for the Summer2019 season:
Regular Season Champions (Greasy Bucket of Used Balls Award)- Team Lia
Regular Season Participant (Roll Of Crumpled Up, Used  (3M) Tape Award) – Team Dirka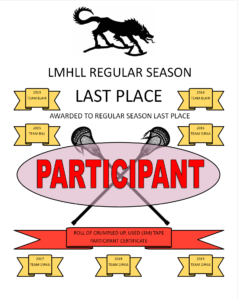 Playoff Toilet Bowl Loser (LMHLL Ashley Honyust Memorial Old Bedpan Participant Award) – Team Sharley
Playoff Toilet Bowl Winner (Every Winner Has To Get Something Champion Of The Losers Round Bronze Bobblehead Award) – Team Dirka
And finally….most important of all…
Playoff Overall Champions (LMHLL Memorial Bragging Rights Used Ball of (3M) Tape Crystal Ball Award) – Team Lia
Hope that everyone had a good time this summer. Winter 2019-2020 details will be posted shortly (in a few minutes).
If we don't see you on the floor – happy a safe and fun winter and we'll see you on the floor again in 7 months for SUMMER2020 HL lacrosse.
G2